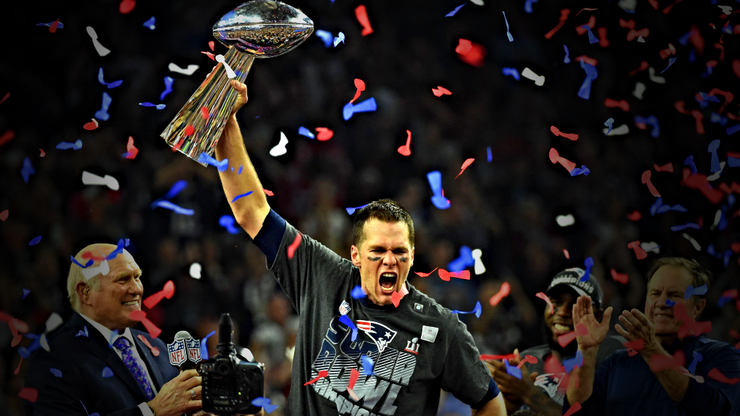 In Monday's 'Best for Last' segment, Colin Cowherd compares Tom Brady to some of the other 'GOAT' athletes in sports history the likes of Babe Ruth, Muhammad Ali, Lionel Messi, Michael Phelps, Wayne Gretzky, Tiger Woods, LeBron James, and Michael Jordan.
Brady is about to play in his record 10th Super Bowl and trying to win his record 7th ring.
The 43-year-old is a 14-time Pro Bowler, 5-time All-Pro, 4-time Super Bowl MVP, 3-time NFL MVP, and won the Comeback Player of the Year Award in 2009. He led the league in touchdowns four times, passing yards three times, quarterback rating twice, and completion percentage once.
He's the all-time leader in touchdown passes, and only trails potential retiree Drew Brees by 1,154 yards for the all-time lead in career passing yards.
Check out the video above as Colin lets us know how Brady stacks up against the other GOATs in sports history.
The Real Reason Why the Rams Traded Jared Goff
JuJu Smith-Schuster: "I Should Have Trademarked 'The Browns is the Browns'"
NFL Media Needs to Stop Kissing the A** of 'Quitter' Deshaun Watson
Clay Travis Rips Media For Condemning Tom Brady & Donald Trump's Friendship
The Real Reason Why Eric Bieniemy Isn't Getting Hired as an NFL Head Coach
Why Aaron Rodgers Never Came Close to Having the Career of Tom Brady
Rob Parker: Tom Brady Continues to Be 'Luckiest Quarterback in NFL History'