One of the USA's top female footballers, striker-turned-midfielder and 2019 World Cup winner Lindsey Horan talks about the burning desire to set things right after an early exit in Rio, her tangle with COVID-19 and why she watches Lionel Messi obsessively.
"I was really nervous," Lindsey Horan told Tokyo 2020 with a slight chuckle.
She was thinking back to the minutes before a 4-0 friendly rout of Colombia this January. She's approaching a century of caps for the U.S. national team, so the butterflies in her stomach caught her by surprise.
"I kept asking myself 'why am I so nervous right now?'"
Nervous or not, it didn't show. With her first touch of the game, three minutes from the start, she turned toward the left touchline. Horan stroked the ball with the outside of her right boot, picking her head up for a fraction of a second, before sending a low ball up the line that froze the entire Colombian defense. It found the toe of Megan Rapinoe, who cut the ball back across the box. Sam Mewis finished up.
Whatever nervous energy there was at the start of the day, it melted right away with that scalpel of a pass that defined so well what Horan is all about as a player.
No fuss over positions
"A soccer player is a soccer player. That's just the way I came up thinking about it," said the 26-year-old Horan – tall and powerful, but a creator in her bones – about the various positions she's been asked to play for Team USA since her first cap as a teenager.
She carved out the opener against Columbia from deep in the midfield, but she's comfortable farther up in the No.10 role, scheming behind the strikers. And at the tip of the spear, as a traditional centre-forward, she might be best of all.
"I studied the game so much from when I was a kid and I feel like I see the game really well. I don't really care where you put me, as long as I can get on the ball."
Horan dominates the attacking third of the field, even from her deeper role under new USA coach Vlatko Andonovski. She happily stalks the spaces from touchline to touchline, between both penalty areas, eager to find the gaps. She's always on the lookout for the ember of an attack. She's most at home, as she says often, on the ball. This is no surprise considering the team – and one player in particular – she grew up emulating.
If you've ever peeked at Horan's twitter feed, you'll know who it is.
<!–[if IE 9]>
<![endif]–>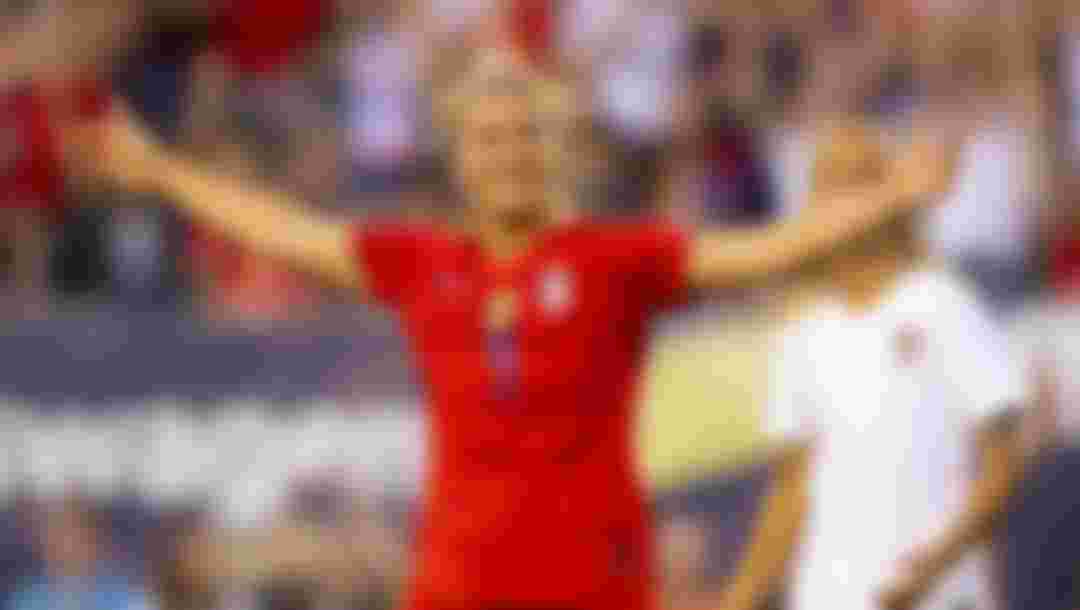 Lindsey Horan #9 of the United States reacts in front of Tatiana Pinto #11 of Portugal after a goal by Morgan Brian #6 in during the USWNT Victory Tour in 2019 (Photo by Mitchell Leff/Getty Images)
2019 Getty Images
"I got it into my head early to watch Messi," said Horan, who speaks with encyclopedic knowledge of those Barcelona teams that changed the game of football forever with Pep Guardiola, demanding and cajoling, at the helm. "I would follow Messi on the TV screen and see what choices he made. I was obsessed. And it wasn't just him, but [Andres] Iniesta and Xavi, too – this was wizardry! It opened up my mind to a whole new world."
Horan's nerves before stepping on the field for the Colombia game had nothing to do with lack of confidence. She's fairly full of that, and for good reason. She broke with tradition and became the first American woman to go overseas in 2012. Barely 18 and straight out of high school, she lined up for PSG for four seasons (scoring 48 goals in 56 games). In making so bold a decision, Horan turned down a full scholarship to the University of North Carolina – the school that produced USA national team trailblazers Kristine Lilly and Mia Hamm.
"There were no guarantees that I'd get myself in the national team by going to France," said Horan, who returned to the States in 2016 and won an NWSL title and league MVP award in 2017 and 2018 respectively with the Portland Thorns. "I didn't have anyone before me who did it and so I kind of didn't know if it was going to work out."
So-so debut to leading role
Her first USA cap came in 2013, when she flew from France to Portugal and played 25 minutes against People's Republic of China in a game at the Algarve Cup with then PSG teammate Tobin Heath.
"I was young and it was so new," she said, again with a laugh. "I just told myself before I went in: 'don't screw up'. I can't tell you how nervous I was. I just tried to pass the ball to a teammate, any teammate, when I got it."
Horan's nervousness at the start of the Colombia contest this January, eight years and 88 caps since her wobbly debut, was for very different reasons. It had been nearly a year since she last played a national team game. That's a long haul for a top competitor and a team leader. She was forced out of the USA's last trip, to Holland in November of 2020, after contracting COVID-19.
"It was one of the worst couple of weeks I've ever had," she said of her bout with the virus, looking ahead to her competitive international return at the sixth annual SheBelieves Cup, where hosts USA take on fellow Olympic qualifiers Brazil and Canada.
"It was a real misery. I had all the symptoms… it was some of the worst I've ever felt in my life."
She isn't the type to exaggerate for effect. She's as tough as they come, born and raised high in the Rocky Mountains around Denver, Colorado. Even before she came down with COVID-19, Horan suffered through the doubts and worries of the early pandemic times, when no one knew how bad it would get, or how long it would go on. She rented out a field near her family home in Golden, Colorado and trained almost every day for three months with Manchester City player and Canada international Janine Beckie, who has roots, like Horan, in Colorado.
"It's so hard to keep preparing for something you don't know is going to happen. We hit a wall near the end of those months. We were working so hard and, at some point, we had to ask each other: 'why the hell are we doing this?'"
<!–[if IE 9]>
<![endif]–>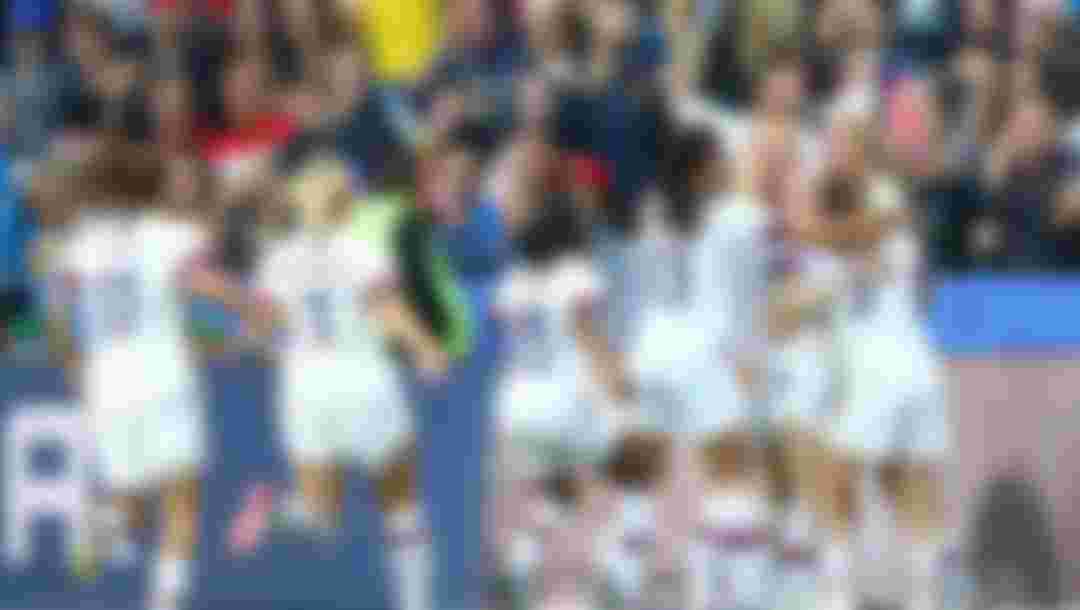 Lindsey Horan of the USA celebrates with teammates after scoring her team's first goal during the 2019 FIFA Women's World Cup France group F against Sweden (Photo by Martin Rose/Getty Images)
2019 Getty Images
The question, of course, was rhetorical. The answer was simple: because there's an Olympics on the horizon. While the whens of it remained unclear for a time, the goal – for Horan and all the other players in the USA squad – remained firmly in place. The 2020 Games are more than just a chance to win a fifth gold medal. It's a chance to set the record straight.
Rio revenge and Olympic dreams
"That feeling never goes away," Horan admitted, speaking of the quarter-final defeat via a penalty shootout to Sweden at Rio 2016. "As a team, we ride on winning and getting to finals. That's not meant to sound arrogant, but that's how it is. Everyone [in the U.S. team] still has that bitterness in their mouths. We just really want revenge. But not a revenge on someone else, a revenge for ourselves."
With an extra year to prepare for the Tokyo Games, you can bet Horan will be ready for kick-off this summer. And the wind pushing at her back is the memory of brighter times – in particular, the victorious 2019 World Cup in France that saw the U.S. women welcomed back home as conquering heroes with the kind of parade in New York City reserved for only the most revered of national heroes.
"Winning a World Cup is the pinnacle of soccer and it was the goal I had for my whole life. It was an absolute dream," said Horan, allowing herself to revel in memories of the trophy-lift, and the ticker-tape that rained down on the Big Apple's Canyon of Heroes, for only a few brief seconds before changing gears – like the ferocious competitor she is – to the next test ahead.
"But now our minds shift to the Olympics. That's just the way it is. All eyes on Olympic Gold. That's the way it works with us."